Miniature donkeys are a distinct breed of the equine family, and have not been bred down in size like miniature horses.

They were imported to the United States - on a limited basis - over 70 years ago from Sardinia and Sicily- off the coast of Italy.

Only a handful of the ancestors from these original bloodlines still reside on these islands.


Beloved Pets

In the United States, mini donkeys have become beloved pets:

Their small size coupled with a calm and gentle disposition makes them an ideal companion animal.

Although, originally they were used for packing burdens, guarding livestock, pulling loads and even mining; today, they are used for a variety of other activities.

See article on What you can do with a miniature donkey.

Miniature donkeys are hardy and easily managed.

They are lifetime pets, and with proper care and feeding can live on the average of 25-30 years.

As the friendliest, most affectionate and intelligent animal of its type, the mini donkey has a trustworthy patience around the elderly, children and the handicapped.


Mini Donks as Equine Therapy

Studies and experiments in the U.S.A., United Kingdom and Switzerland show that the placid temperament of donkeys make them superior to horses in "Equine Therapy Work." In addition, they are known to have a greater capacity to bond and respond to humans than other equines.

One of the first importers of miniature donkeys to the United States in 1929 sums it up quite well:

"Miniature donkeys possess the affectionale nature of a Newfoundland, the resignation of a cow, the durability of a mule, the courage of a tiger, and an intellectual capability only slightly inferior to man's." - Robert Green
Whether you have a few acres or a sprawling ranch, miniature donkeys make a most rewarding and versatile investment. Despite the economic ups and downs of recent years, miniature donkey have not only held, but increased their appeal and value. They are "easy keepers" - hardy, desert animals with much less maintenance and expense than horses. Their compact size makes them much easier to manage and handle than their larger counterparts. Less inclined to kick than horses, they are much safer around children.
They are gentle, affectionate, and sociable to people of all ages, making the perfect pet. They are used as companions for other animals (mainly other equines), and have a calming influence on racehorses and stallions.

Some are suitable for guarding livestock-goats and sheep are safer from predators with a miniature in the pasture.

They are fun to train and show. You can be a serious halter competitor or have a laugh at the barrel races.

Traditionally "beasts of burden," they can carry small children, pull carts or wagons for pleasure, drag loads around the farm, or carry packs on a mountain trek.

They're cute!!! There's something so uniquely endearing about those big long ears and soft brown eyes that make you want to hug them. You can pick up and snuggle the foals in your arms! They also follow you around and make you feel special. Don't you like feeling adored?


Courtesy of Rae Wheelis Photography

They keep you humble. Although some may be sleek champions with impressive trophies and top-gun handlers, they are, after all . . . donkeys! And unpredictable at that! Consequently, even the most serious competitors have a sense of humor which makes participating in events a lot of fun. Which leads me to my next point...

They make us laugh! They are very expressive and can be great comedians. Each one has a very distinct personality which may be exhibited when you least expect it.

They are good listeners.

They're not common like dogs or cats. So, they make a wonderful conversation starter..."You own What?" They still are a unique and "exotic" animal, even though they have been imported since the 1940's. Still many people have never even heard of a miniature donkey much less seen one.

They can be a real attention-getter for your farm, home or business.

They are considered the best for "Equine Therapy Work", helping many mentally and physically handicapped.

Having mini donkeys is a wonderful way for teaching young people character and responsibility through "animal husbandry".

A great attraction for public events such as parades and church pageants.
Although donkeys are "easy keepers", they still require attention and TLC. Everyone who considers purchasing a miniature donkey should weigh the cost; time and responsibility. In addition to basic care, their affectionate and faithful nature deserves a relationship.
A "FRIEND"
Donkeys usually bond in pairs, so everybody should have an equine buddy. May be another donkey, mule, or horse.
WATER
Fresh clean water at all times.

HAY
Feed good quality Tifton 85 or coastal/Bermuda hay. When grass is not abundant, each donkey gets about 1/2 to 1 flake morning and evening.

GRAIN
Miniatures generally require between 1-4 lbs. of good quality, balanced feed as a supplement. The amount, frequency, and protein/caloric content of the feed given should depend on the individual. The age, weight, etc. of the animal should be judged, as it is extremely important not to overfeed or underfeed. Some good products: Purina Strategy, 10% Horse and Mule, Purina Omalene 200, etc.

MINERALS
It is important to have mineral supplements available at all times. It is wise to use two different forms-loose and block-to ensure all donkeys get some form of them*.

*It is important for the minerals to be specifically for Equines, not cattle or other livestock!

HOOF CARE
Hooves should be trimmed generally every 6-8 weeks. It is possible to learn to do this yourself, when not using a professional farrier.

WORMING
Regular worming using a broad-spectrum paste like Ivermectin. Dose by weight every 6-8 weeks or as needed due to weather conditions.

VACCINATIONS
Mature donkeys need (at least) annual vaccinations. We recommend Flu-Rhino, EWT, West Nile, and Rabies at minimum. Consult your veterinarian for vaccines concerning young donkeys and pregnant jennets.

SHELTER/PASTURE
A simple 3-sided shed should be provided at least. Barns and shelters, paddocks, and pasture need to be kept clean for parasite control.

FLY CONTROL
Unclipped donkeys usually do not have fly problems (except occasionally in spring/summer). If you decide to body clip, use an equine fly spray when necessary. Keeping areas manure-free and using fly traps is the best solution for abundant flies.

LOL (LOTS OF LOVE)
Spending time with your miniature donkey is beneficial both ways!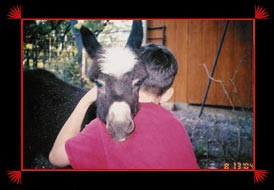 Southwestern Donkey & Mule Society
American Donkey & Mule Society
National Miniature Donkey Association
Herdsires Jennets Geldings Youngsters Straight Talk Why Straight Arrows
Not Just Any Herd Tales From the Trail Back at the Ranch About Miniatures
Trading Post Contact Us Home Links



Copyright 2007, Straight Arrows Ranch of Texas
Site optimized by Pithy Productions, Inc.
ABOUG THIS WEBSITE: Straight Arrows Ranch breeds sweet, affectionate miniature donkeys for sale in the Hill Country area of Texas. Our top quality, pedigree studs are bred by matt carlson and sherri carlson. We specialize in award winning, show quality sicilian donkeys, mediterranean donkeys, jacks, jack, jennets, jennet, jennies, jenny, jennys, geldings, gelding. From the time our mini donkeys are foals, yearlings, weanlings, we train them to make the perfect pet for any family. ADDITIONAL KEYWORDS FOR THIS PAGE ARE: mini donkey, donkey, donky, miniature donkey for sale, miniature donkey texas, donkies, about, care, caring, caring for, about, taking care of, what are, breeder, breeders, breeding, texas, tx, straight arrows ranch, straight arrow ranch, stud, stud service, farm, farms, austin, dripping springs, hill country, burro, burros, , straightarrows ranch, straightarrow ranch, straight arrows, burro breeding, herd sires, herdires, jacks, jack, jennets, jennet, jennies, jenny, jennys, geldings, gelding, pedigree, awards, hill country texas, hill country tx, sardinian, christ, small, little, ranch, ranches, premiere edition, itsy bitsy burro, foal, yearling, weanling, sire, dam, brood, foals, babies, weanlings, yearlings, for sale, registered, champion, conformation, socialized, trained, reserve, model, black, spot, spotted, spots, sorrel, darks, pets, pet donkey, equine, animals, mule, mules,and long ears.